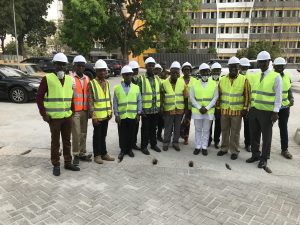 The Minister of Finance, Mr Ken Ofori-Atta, on Thursday inspected ongoing repair works on the Ghana Trades Union Congress (TUC) building, which has seen no renovation since it was constructed nearly six decades ago.
Ghana's first President, Dr Kwame Nkrumah, constructed the six-storey edifice in 1960 and handed over to the TUC.
But the building, designated as the Hall of Trade Unions, which houses over 20 labour unions, had been deprived of maintenance over the years, suffering from cracks and haphazard wiring and piping.
However, the TUC has now initiated repair works through contributions from member labour unions according to the space each group occupies and with support from the Government.
TUC officials told the Ghana News Agency that Government had already sunk about five million Ghana cedis into the project, estimated to cost 15 million Ghana cedis. It is expected to be completed by May 2020.
Mr Ofori-Atta, after being taken round the six-storey building by project managers, said Government's support for the renovation works formed part of its efforts to deepen the social partnership pact signed this year with organised labour.
The agreement had been hailed by many as unprecedented in Ghana's history as it marked a new public-private commitment in economic matters.
It also set the tone for a new dawn towards improved relationship between Government and unionised labour, which before then had been characterised with strikes.
He said the President was very concerned about how "we move forward as a government and labour and employers" to move the nation towards rapid social transformation and economic prosperity.
"So, this is a gesture of our interest in making sure that the Union is modernised and the facility is something we are proud of and just to reengage with one another in the spirit of working together," he added.
Describing the repair works as very unique, Dr Anthony Yaw Baah, the Secretary-General of TUC, said it would help modernise the Congress and change its bad image from strike to engagement with employers and government.
"When I was elected Secretary General of TUC, one of the things I wanted to do was to modernise the Trade Union and also change the image because our image is more like strike organisation, but it is supposed to be different from that," he said.
He was also happy with the Social Partnership Pact, signed with Government in May, this year, and subsequently forming the Social Partnership Council, which is chaired by Finance Minister Ofori-Atta.
Dr Baah said the Social Partnership Agreement was helping the Labour Union to engage with stakeholders rather than embark on industrial action.
"If you are not seeing many strikes now in Ghana it is because of the social partnership with had with government."
Like the Japanese, Austrians and the Irish, he said, Ghana was keen on developing its social partnership model, to which the International Labour Organisation (ILO) had already indicated its commitment to offer technical support.
Mr Kenneth Andoh, the Project Manager, said the building had been modernised to include facilities such as audio-visuals, access control, internet facility, CCTV cameras and firefighting equipment.
Apart from replacing all the 162 air conditioners with new ones, he said a power room had been created to take care of metres and cabling while piping fixed and new sanitary equipment installed to give the edifice fresh outlook.
Two exits and one emergency entry have also been created with other security apparatuses fixed to protect workers.
story by: GNA